Route
Interest
palais du tau à Reims / vignoble champenois de la Montagne de Reims / vallée de la Marne / cloître de Notre-Dame-en-Vaux à Châlons-en-Champagne / porte de Vitry-le-François / lac d'Amance à Dienville / forêt d'Orient / maison à Pans de Bois à Bar-sur-Seine / Fosse Dionne à Tonnerre / vignoble de Chablis / cathédrale d'Auxerre / grottes d'Arcy-sur-Cure / basilique de Vézelay / côtes du Nivernais / remparts de la Charité-sur-Loire / palais ducal de Nevers / forêt d'Apremont / forteresse de Montrond à Saint-Amand-Montrond / abbaye de Puyfferand au Châtelet / vallée de l'Indre à la Châtre / château de Gargilesse-Dampierre / vallée de la Creuse et lac d'Éguzon / château de Crozant / lanterne des Morts à la Souterraine / fontaine de Bénévent-l'Abbaye / Monts d'Ambazac / pont du Dognon sur le Taurion / collégiale de Saint-Léonard-de-Noblat / abbatiale de Solignac / châteaux de Châlus / monts du Limousin et du Périgord Blanc / cathédrale Saint-Front de Périgueux / château de Monbazillac / Tour d'Aiguillon / Maison Henri IV à Barbaste
Starting Point
Neufchâtel-sur-Aisne (Aisne)
End Point
Montréal-du-Gers (Gers)
Which cities and towns does the E-path pass through
Neufchâtel-sur-Aisne, Reims, Châlons-en-Champagne, Vitry-le-François, Bar-sur-Seine, Auxerre, Vézelay, la Charité-sur-Loire, Nevers, Saint-Amand-Montrond, la Châtre, Crozant, Limoges, la Coquille, Périgueux, Bergerac, Cançon, Aiguillon, Montréal-du-Gers.
Length
1.334 km
Ground paths of the E-path, marking and responsible for marking
– GR® 654 : Neufchâtel-sur-Aisne (Aisne) – Bergerac (Dordogne)
– GR® 654 « Est » : Bergerac (Dordogne) – Montréal-du-Gers (Gers)
Marking: double white-red line
Responsible for marking: FFRandonnée committees Aisne, Marne, Aube, Yonne, Nièvre, Cher, Indre, Creuse, Haute-Vienne, Dordogne, Lot-et-Garonne, Gers.
Publications
Sections of the E-path on FFRandonnée topo-guides, available on the ffrandonnee.fr website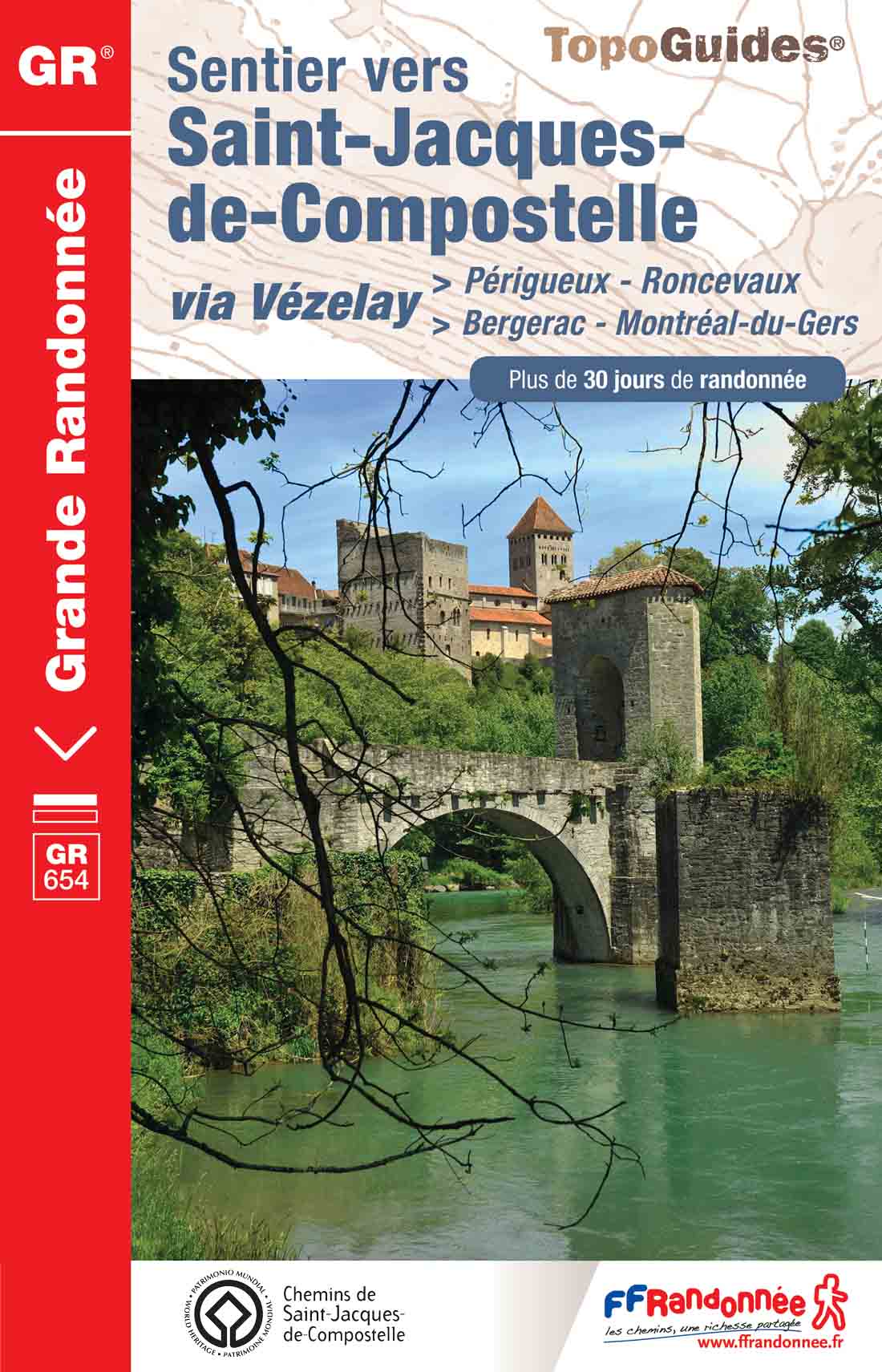 GR® 654 « Sentier vers Saint-Jacques-de-Compostelle, via Vézelay (Périgueux – Roncevaux / Bergerac – Montréal-du-Gers) », ref. 6543
See cover at the end of the page.
Maps
IGN has several maps that cover the route
Crossing other E-paths
See map at the end of the page.
Practical
The division into stages is guaranteed by the regular presence of accommodation, resources and transport all along the E-path.
Gear
No specific gear required.
Links
---
Legal notice
Find all the GR® on mongr.fr
GR® is a trademark registered by the FFRandonnée, it designates the routes identified under the name of "GR®", marked with white-red marks. These routes are creations of the FFRandonnée. Their unauthorized reproduction, as well as the GR® brand constitute an infringement liable to prosecution.
---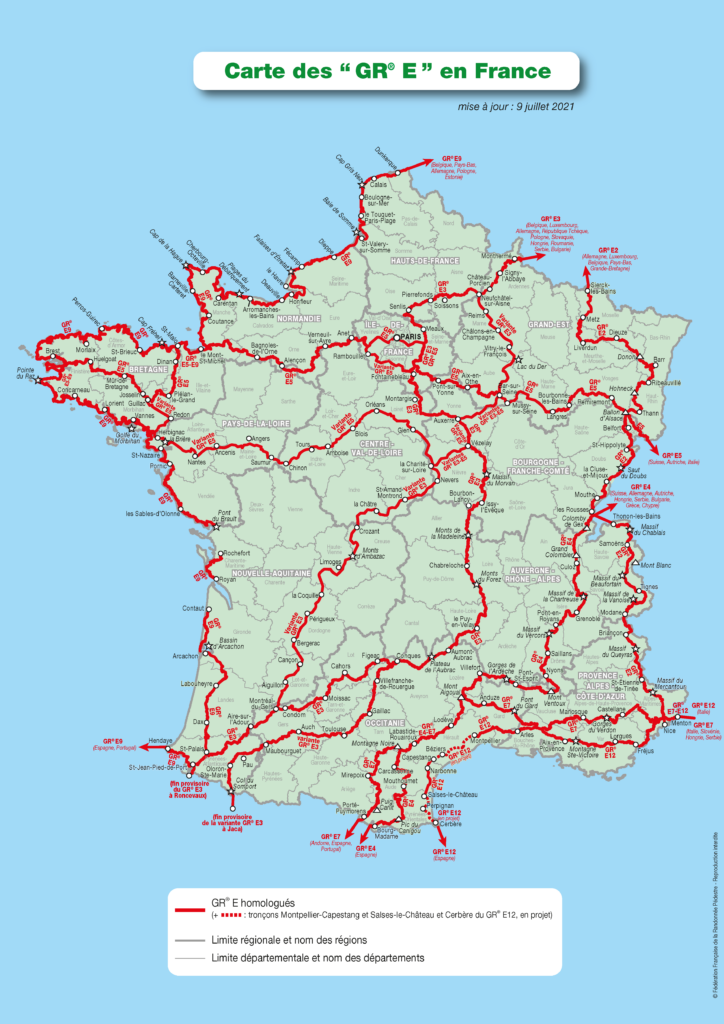 ---