e-paths.org
#epaths
Explore diverse landscapes, cultures, and history on the 12 E-paths.
The European paths – the E-paths – are the backbone of Europe's walking trails. They are long distance trails that connect national and regional walking trails and provide intercultural experiences across the borders.
E-paths connect people and are the paths for peace, understanding and unity.
E-Paths are the European long distance trails which link the countries from North Cape to Crete and from the Atlantic Ocean to the Carpathians and the Black Sea.
There are 12 E-Paths, bearing the name of E1 to E12. These E-Paths are waymarked and maintained by the members of the European Ramblers Association.
The Verified E-paths are the best thru hikes in Europe.
The E-Paths run on existing national or regional trails with the trails' own marking. However, it has been agreed to identify the E-paths also here and there with a uniform marking: a blue shield with the yellow stars of Europe, in the middle of which is the letter E and the corresponding number of the E-path.
You do not need to walk thousands of kilometers to walk on an E-Path. You can walk along an E-path for a few hours, for one or two days, for a week or longer. It is up to you to decide.
Find the E-paths
You may find the E-paths below or find the routes and download GPX files at Waymarked Trails and find information about the E-paths at Wikipedia.
You can also find more detailed information about the E-Paths on the website of our partner Traildino.
Read also about walking in Europe here.
The 12 E-paths
E1: 7.114 km Nordkapp (N) – Göteborg (S) – Aarhus (DK) – Konstanz (D) – Lugano (CH) – Genova (I) – Salerno (I)
E2: 5.720 km Inverness (GB) – Hoek v Holland (NL) – Antwerpen (B) – Echternach (L) – Chamonix (F) – Nice (F)
E3: 8.880 km Santiago (E) – Vézelay (F) – Echternach (L) – Fulda (D) – Zakopane (PL) – Ártánd (H) – Nesebâr (BG)
E4: 12.090 km Tarifa (E) – Grenoble (F) – St-Cergue (CH) – Budapest (H) – Beograd (SRB) – Sofia (BG) – Lanaca (CY)
E5: 4.120 km Pointe du Raz (F) – Fontainebleau (F) – Kreuzlingen (CH) – Bregenz (A) – Verona (I)
E6: 6.030 km Stockholm (SWE) – København (DK) – Goslar (D) – Koper (SLO) – Alexandroupolis (GR)
E7: 6.370 km El Hierro (E) – Lisboa (P) – Andorra (AND) – Nice (F) – Ljubljana (SLO) – Nowi Sad (SRB)
E8: 6.240 km Dursey Head (IRL) – Hull (GB) – Hoek v Holland (NL) – Bonn (D) – Wien (A) – Brasov (RO) – Svilengrad (BG)
E9: 10.092 km Tarifa (E) – Lisboa (P) – Brest (F) – Hoek v Holland (NL) – Lübeck (D) – Gdansk (PL) – Riga (LAT) – Tallinn (EST)
E10: 2.370 km Potsdam (D) – Prague (CZ) – Salzburg (A) – Bolzano (I)
E11: 4.610 km Scheveningen (NL) – Osnabrück (D) – Potsdam (D) – Poznań (PL) – Ogrodniki (PL) – (LAT) – Tallinn (EST)
E12: 1.490 km Tarifa (E) – Ceuta (E) – Barcelona (E) – Nice (F) – Genova (I) – Salerno (I) – Koper (SLO)
---
Download a 2 pages folder in A4 about the E-paths:
---
---
Logistics
Use Google Maps to find transportation, restaurants, hotels, accomodation and supermarkets near you. Seek on 'bus', 'trainstation', 'restaurant', 'hotel', 'accomodation', 'camping' or 'supermarket' or similar words near you.
Use TripAdvisor or Hostels to find accomodation and other logistics along your route.
Also have a look at Wikitravel, which gives a lot of travel information about countries, areas and cities.
---
Videos
---
Communicate
Communicate about the E-paths in our E-path Facebook Group.
---
Events
Find the E-paths events here:
---
E-path coordination is done by the ERA E-paths Working Group:
---
Latest news about the E-paths:
---
E-path certificates
ERA awards walkers who have used the E-paths in an outstanding way can get a certificate.
---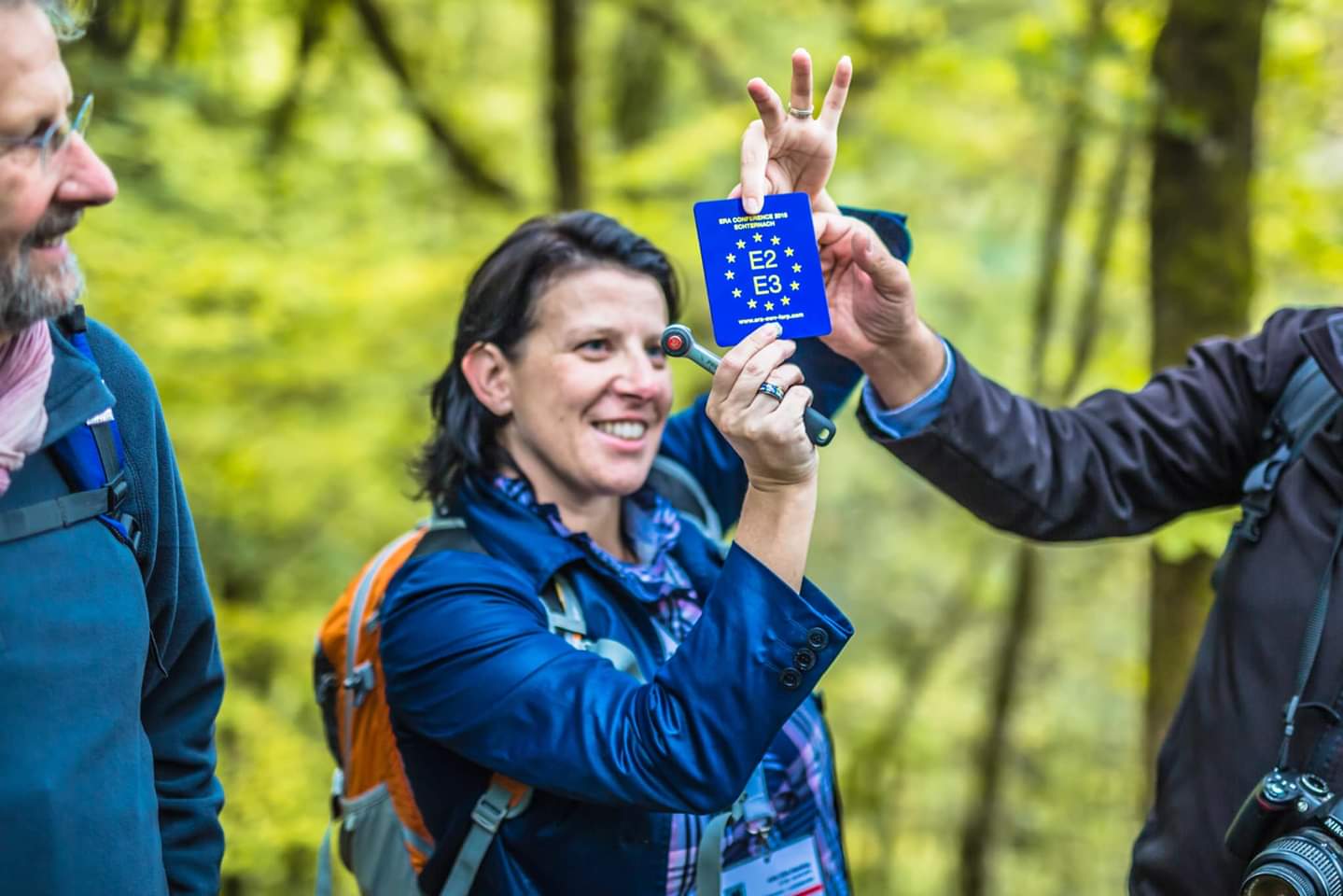 ---
Read here about how to work with the E-paths. Who decide changes and how should the E-paths be marked.