GPX
Route
On the short German section we pass the Bergrestaurant Hochgratbahn (1704m), the Hochgrat (1834m) further on over several other peaks to Sonthofen, the southernmost city of Germany.
Here we cross the river Iller, separate from Maximilianweg and E4 and follow the river to the south.
Soon we reach the holiday paradise Oberstdorf, which is for Germans the starting point to cross the Alps to Meran (Italy)
Further south we follow the Trettachtal and the Sperrbachtobel up to the Kemptener Hütte (1844m). Please pay attention to the opening hours of the passage.
After about one kilometer we leave Germany at the Mädelejoch (1973m) and reach Austria again.
Starting Point
Close to Hittisau near the Untere Samansbergalpe
End Point
South of the Kemptener Hütte at the Mädelejoch
Which cities and towns does the E-path pass through
Health resort Sonthofen (741mNN, 21500E)
Health resort Oberstdorf (813mNN, 9700E)
Length
53 km
Ground path of the E-path
None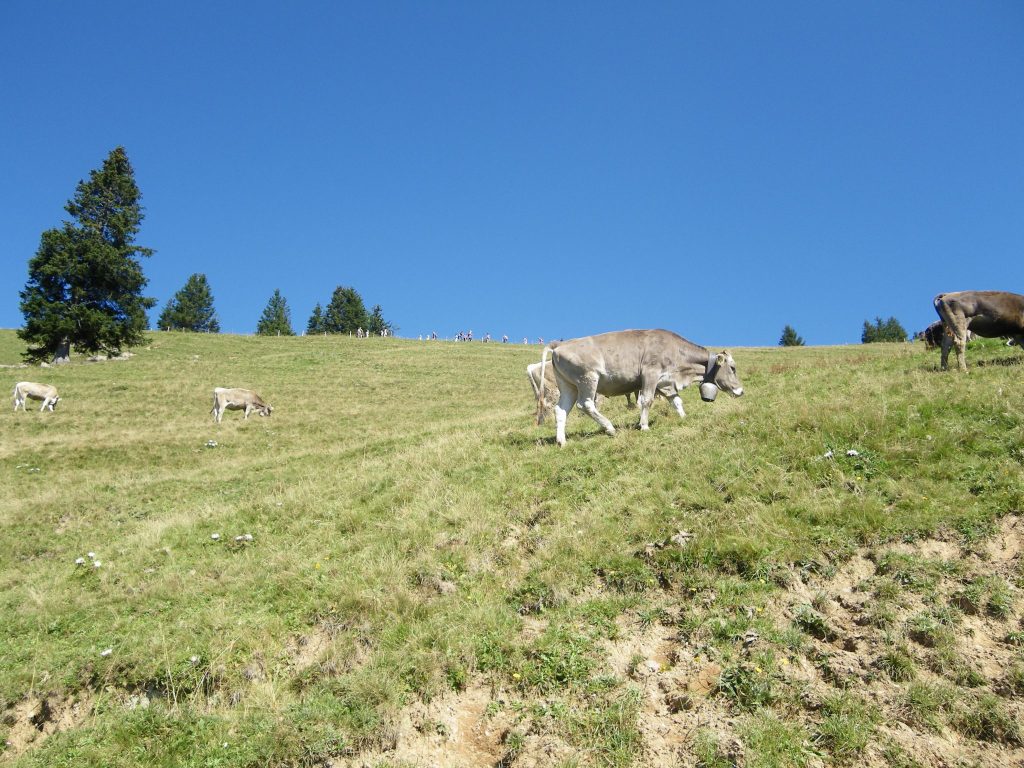 Responsible organisation(s)
DAV section Immenstadt local group Sonthofen
https://dav-allgaeu-immenstadt.de/ortsgruppen/sonthofen/
Tourismus Sonthofen
https://www.tourismus-sonthofen.de
DAV Section
Oberstdorf
https://www.alpenverein-oberstdorf.de/
Tourismus Oberstdorf
https://www.oberstdorf.de/
Publications
Rother Wanderführer
Fernwanderweg E5: Konstanz – Oberstdorf – Meran/Bozen – Verona. 31 Etappen und 14 Varianten. Mit GPS-Tracks
KOMPASS Wanderführer
Europäischer Fernwanderweg E5, Von Konstanz nach Verona: Wanderführer mit Extra-Tourenkarte 1:50.000-62.500, 32 Etappen, GPX-Daten zum Download
Maps
Alpenvereiskarten 1:25000
BY1 Allgäuer Voralpen West
BY3 Allgäuer Voralpen Ost
BY4 Allgäuer Hochalpen
KOMPASS Wanderkarte 1:50000
Allgäuer Alpen, Kleinwalsertal
Marking system
Follow Austrian flag along the way, at crossings route indicator signs with name and path number
Crossing other E-paths
Runs to Sonthofen parallel to the E4
Practical
Accomodation
Sonthofen
Oberstdorf
Kemptner Hütte
Food
Supermarkets in Sonthofen and Oberstdorf
Travel
Railway-Station of Deutsche Bundesbahn as well as Stores for hiking equipment you will find in Sonthofen and Oberstdorf
Gear
For an ascent, ankle-high mountain boots with a good profile sole as well as the rest of the alpine basic equipment are a prerequisite for a walk! In addition, sure-footedness and a certain degree of dizziness are required. A good alpine condition is a basic requirement! Due to the more demanding stages and a difficult return journey with an early cancellation of the tour, the Alpine crossing is not recommended for beginners without any previous experience with multi-day tours in the Alps! Depending on the season or the weather, alpine experience with the existing conditions is recommended and possibly additional equipment helpful or necessary! Despite mostly well-marked paths, appropriate map material and some experience with them are recommended.
Links
https://www.oberstdorf.de/alpininfo/huetten/alpenueberquerung/
https://www.oberstdorf.de/alpininfo/huetten/alpenueberquerung/tag-1-durchs-sperrbachtobel.html
https://www.kemptner-huette.de/
---
---