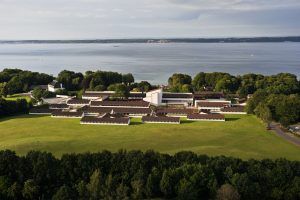 Konventum Conference Centre
Erling Jensens Vej 1, 3000 Helsingør
Konventum is a modern Conference Centre with a superb atmosphere and is praised for its unique architecture, extensive art collection and Danish design.
The Conference Centre location is an area of great natural beauty 300 m from sea called Øresund and with the distance of 3 km from Helsingør railway station.
All single and twin rooms are intimate and cozy with all modern conveniences including shower, toilet, hairdryer, satellite TV, free WiFi.
---
Danhostel Helsingør
Nordre Strandvej 24, 3000 Helsingør
Danhostel Helsingør is located on a completely unique site by the coast of Øresund and close to the famous Kronborg Castle and the city of Helsingør.
The hostel is situated "a beautiful 20 minutes uphill walk" from the Konventum Conference Centre.
30 twin rooms with private shower and toilet are available. Free WiFi, bed linen and towel are included. Breakfast is served at Danhostel Helsingør. All other meals are served at Konventum Conference Centre.
---