Lithuanian nature is beautiful and you can discover it by hiking.
The Camino de Santiago known in English as the Way of St James, is a network of pilgrims' ways or pilgrimages leading to the shrine of the apostle Saint James the Great in the cathedral of Santiago de Compostela in Galicia in northwestern Spain, where tradition holds that the remains of the apostle are buried. In Lithuania you can find four international St. James' roads: Vilnius (493 km), Kaunas (410 km), Šiauliai (403 km) and Žemaitija/Karaliaučius (269 km). Visit www.svjokubokelias.eu for detailed routes.
The Camino Lituano cultural path is the first and only 500-kilometer modern pilgrimage route ready for independent travel, stretching across the whole of Lithuania and joining the European international St. James' road network. Along the way, pilgrims visit churches, chapels, holy places, mounds, educational trails, observation towers, archaeological, natural monuments, museums, manors, places of historical and cultural heritage. Visit www.caminolituano.com for more information.
For the ones who search shorter routes, you can visit www.alltrails.com/lithuania to find the most suitable route by the way of travelling, difficulty, length and other criteria.
---
Baltic Coastal Hiking is a long distance hiking route, part of E9, along the coast of the Baltic Sea. The hiking route starts at the Russian-Lithuanian border in the village of Nida in Lithuania and finishes at the Port of Tallinn in Estonia. The total length of the route is 1419 km, of which 216 km are in Lithuania, 581 km are in Latvia, and 622 km in Estonia. The route can be done in both directions and Tallinn can also be the starting point.
How do you go on the Baltic Coastal Hiking route?
Baltic Coastal Hiking consists of 73 separate one-day or two-day hiking route sections. Each day is considered to be a separate, independent route. By combining days, it is possible to complete routes of several days. Baltic Coastal Hiking can be started in any physically accessible place and go in one direction or the other, there are markers in both directions. The guide marks the recommended start and finish point of each day. Depending on your interests and possibilities, some sections can be covered by public transport, not on foot, or you can make a deal with the owners of accommodation places to arrange personal and luggage transport. To help you get your bearings in nature, there are markings (white – blue – white) on trees, stones and other nature objects and Baltic Coastal Hiking route stickers on road signs, electricity poles, bridge parapets in villages and cities, as well as reference road signs. In places where Baltic Coastal Hiking goes along the beach and continues straight forward for a long distance, it is not marked. Along the shore of the Great Sea (the Kurzeme coast of the Baltic Sea) and the Little Sea (the Kurzeme coast of the Gulf of Riga), large wooden signs are placed in the dunes near populated areas, providing information about the specific populated area, as well as indicating the distance to the closest village in both directions. You will also see information stands placed along Baltic Coastal Hiking.
Specifics of the route
In Lithuania, the Baltic Coastal Hiking mainly goes along sandy beaches, sidewalks and trails. In some places, the trail goes along asphalt and gravel roads. For short distances, the trail goes on dirt roads, wooden paths, seaside meadows and pebble beaches.
In Lithuania, the route has two branches:
1) Nida – Klaipėda – Palanga – Šventoji;
2) Rusnė – Šilutė – Ventė – Kintai – Dreverna – Klaipėda.
Name in Lithuania: Jūrų takas
Length in Lithuania – 216 km, 10-12 days
Highlights: Curonian Spit National Park, Nemunas Delta and Rusne Island, Seaside regional park, coastal resorts of Nida and Palanga, Klaipeda Old Town, Sea Museum.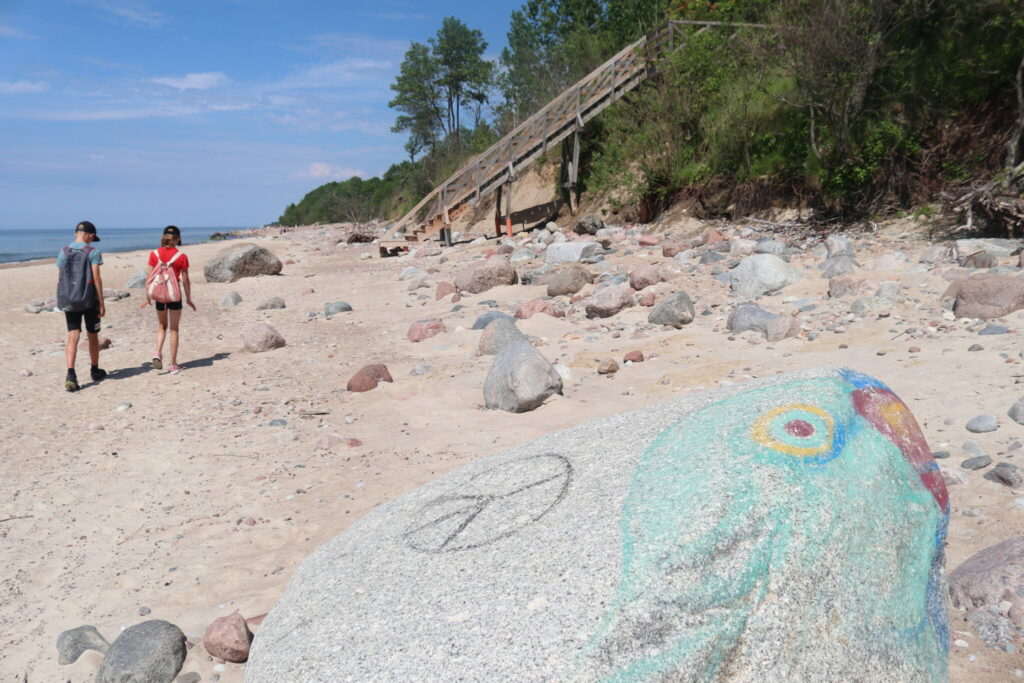 Baltic Coastal Hiking in 4 seasons
You can go Baltic Coastal Hiking in all 4 seasons. Summer is the tourist season in Lithuania, Latvia and Estonia, when more people come to the sea coast in comparison to other times of the year. As a result, accommodation near the sea can be fully booked some time in advance, and near the biggest cities you may have to wait longer to receive the meal you ordered. In the summer, you can swim, walk through the water barefoot and also wade across the streams and brooks located along the route. Summer can also have longer periods of rain and lower air temperatures (around +13 °C), so it is certainly recommended to check the weather forecast in advance. In autumn, you can see more colours when going through the woods, especially in Estonia. Leaves are changing colour and you can find mushrooms, berries and nuts. Birds migrate south. During storms, amber is washed ashore. In this period, some of the accommodation and catering places may be closed. The itinerary can also be completed in winter, but you must keep in mind that most of the services are not available at this time of year. In the case of lasting snow and cold, several sections, for example, the sea coast of Vidzeme, can be covered using skis. Ice formations can be seen on the Pakri peninsula. When starting the hike in spring, the awakening of nature can be observed: the colour green starts to prevail, lilac blossoms spread their scent along the sea coast, and the birds return home. The streams and brooks that you can wade through easily in summer can have a high water level in spring, so you will have to look for the closest bridge. The number of accommodation and catering places offered is still limited.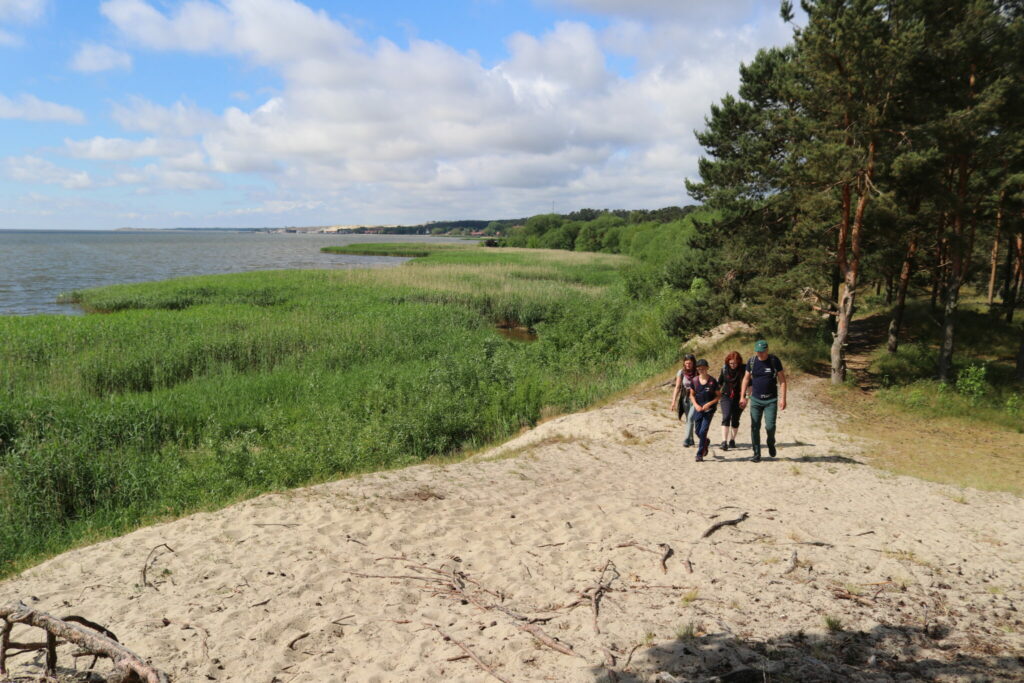 Useful advice
It is recommended that you take some cash (EUR) with you on the trip, as in some places credit cards are not accepted and ATMs are not available. When crossing a country border or when you are near a border, you have to carry identity documents that are valid for travel. When going through stony and rocky sections, you should wear closed footwear, while in places with an overgrown coast, water-resistant footwear will come in handy. Water and wind resistant clothing will also prove useful. A medical kit is advisable. You will need a power bank for your phone as there are several long sections where it is not possible to charge electrical devices. In some places, mobile network coverage may be unavailable. Most accommodation and catering facilities offer Wi-Fi. Cliffs and bluffs consist of unconsolidated sedimentary rocks and landslides and landfalls may occur near them. In times of strong winds, it is not safe to approach places where the bluffs are washed by waves; they should be bypassed.
Join Baltic Coastal Hiking whenever you want, take a break whenever you like and return when you feel it is the right time for hiking! More information www.coastalhiking.eu.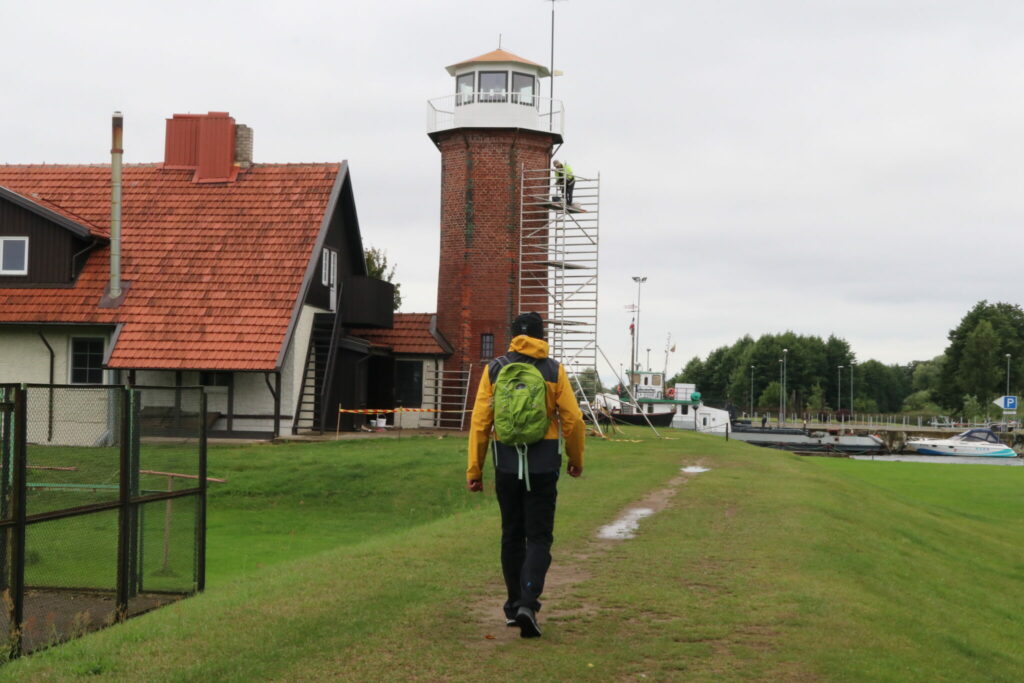 Social media:
Facebook: www.facebook.com/baltictrailsltmiskotakasjurutakas
Web site: www.coastalhiking.eu
ERA member:
Lithuanian Countryside Tourism Association
K. Donelaičio st. 2-202
LT-44213 Kaunas
Lithuania
T: +370 635 57154