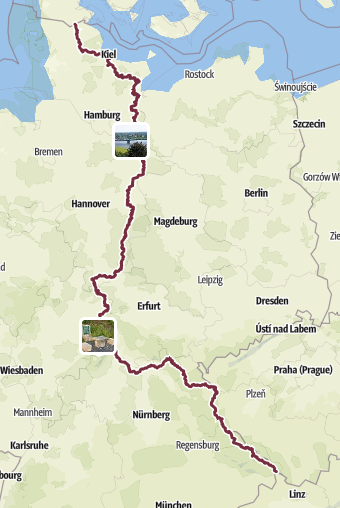 Route
In Schleswig-Holstein the E6 crosses the Danish-German border.
From Kupfermühle it shares part of the route with the E1. We head south past Kiel and Lübeck; Hamburg is bypassed to the east before hikers meet the Elbe and cross the river at Lauenburg. From here the E6 continues towards Braunschweig.
The first challenging climbs await in the Harz Mountains.
At Goslar the E11 meets the E6 route. Hikers now continue their route further south towards Eschwege.
After reaching the Rhön, the path turns east through the area between the Thuringian Forest, Main and Franconian Forest into the Fichtel Mountains.
Now the E6 runs southeast again through the Bohemian Forest and divides into two variants, one of which (the "Nurtschweg") runs through the Upper Palatinate Forest further through Germany and the other through the Czech Republic. Both routes meet again in Bayerisch Eisenstein in the Bavarian Forest.
The E6 then leaves Germany at Haidmühle in Bavaria and continues its route into Austria.
Starting Point
Kupfermühle (Dänische Grenze)
End Point
Haidmühle (Österreichische Grenze)
Which cities and towns does the E-path pass through
Lübeck, Wolfsburg, Wolfenbüttel, Goslar, Göttingen, Hann. Münden, Eschwege, Hünfeld, Gersfeld, Coburg, Marktredwitz, Furth im Wald.
Length
1.660 km
Maps
KOMPASS Europäische Fernwanderwege
Crossing other E-paths
E1 (Schleswig)
E9 (Travemünde)
E9 (Ratzeburg)
E11 (Goslar)
E3 (Wildeck-Hönebach)
E3 (Fulda)
E3 (Zell im Fichtelgebirge)
Links
Europäische Fernwanderwege (wanderbares-deutschland.de)
See E6 in Germany at Outdooractive
---