(Naprudnikova pot)
Route
The Slovenian section of the E7 is called Naprudnik`s Trail (Naprudnikova pot) and it runs from Soča river to the Drava river. It is named after the late teacher of Slavic studies Zoran Naprudnik, a very hard-working social worker, active in sports and tourism. The route is marked from the west to the east of Slovenia. The most mountainous part is at the beginning of the trail and rises highest on Porezen at 1630 m above the sea level. The trail crosses the Soča valley, from where it heads towards the hills of Loka and Polhov Gradec and further towards Dolenjska, Posavje and Kozjansko region and then continues to Pannonian part of Slovenia and Hungary.
On the way you can collect stamps at 42 checkpoints eupoti.com/_private/kontrolne_tocke_E%207_9_9_19.pdf , print them in the diary eupoti.com/kontrolne_tocke_dnevniki.htm and send it to the following address: Turistična zveza Slovenije, Miklošičeva cesta 38, 1000 Ljubljana, Slovenia. You will receive a memorial badge of the trip and will be invited to the annual meeting of European travelers in Slovenia.
Starting Point
Robič (border with Italy)
End Point
Hodoš (border with Hungary)
Which cities and towns does the E-path pass through
Robič (border with Italy) – Kobarid – Tolmin – Petrovo Brdo – Porezen – Blegoš – Škofja Loka – Vrhnika – Pokojišče – Mačkovec – Dolenjske Toplice – Gorjanci – Pleterje – Krško – Podsreda – Podčetrtek – Rogaška Slatina – Rogatec – Donačka gora – Ptujska Gora – Podlehnik – Borl – Podgorci – Ormož – Jeruzalem – Ljutomer – Banovci – Moravske Toplice – Kančevci – Gornji Petrovci – Hodoš (border with Hungary)
List of all places along the path: pespoti.si/obhodnica.php?id=5
Length
650 km, 30 days easy walking
Ground path of the E-path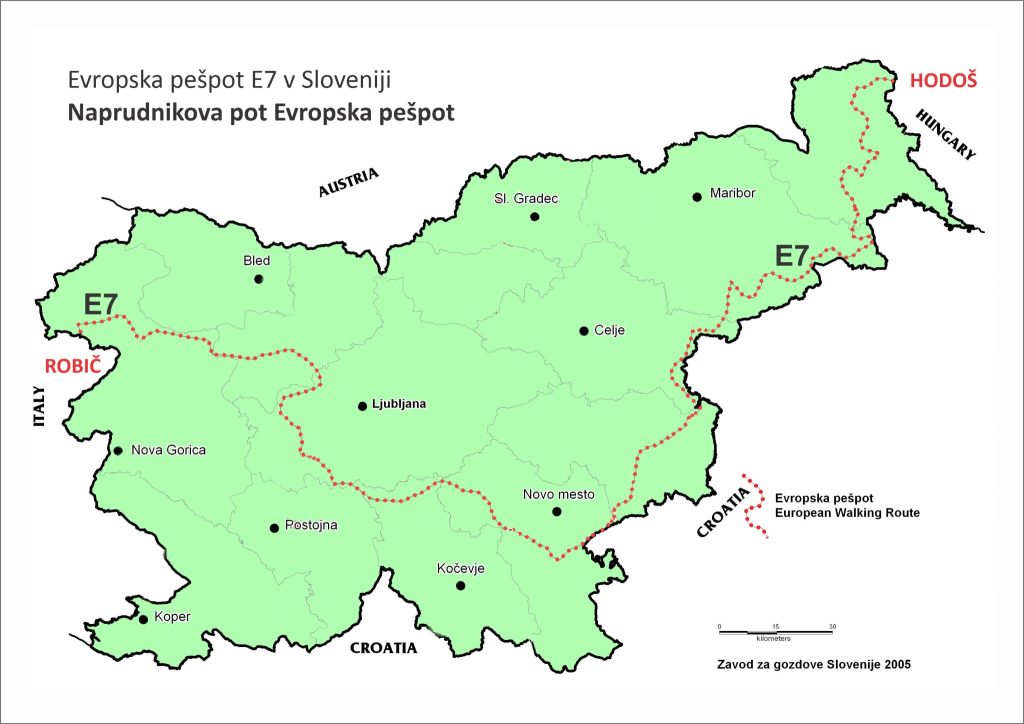 alltrails.com/trail/slovenia/kobarid/long-distance-footpats-e7-in-slovenia-may-2014
eupoti.com/e7.htm?fbclid=IwAR0hYmXryVFyJ4RszLvMPWj4YfnxhUQ3k83lO8PcD1eNLNYHoafGBPksOQs
The walking path connects several mountain paths and theme trails.
Responsible organisation(s)
Planinska zveza Slovenije/Alpine Associaton of Slovenia, Dvorakova 9, 1000 Ljubljana
Tel. 00 386 1 434 56 80, fax. 00 386 1 434 56 91, www.pzs.si, info@pzs.si ,
KEUPS (Komisija za evropske pešpoti v Sloveniji), Večna pot 2, 1000 Ljubljana, eupoti.com/ keups.slo@gmail.com
Publications
Dario Cortese: Evropska pešpot E7, Mladinska knjiga, Založbi Porezen:
1630@porezen.si GSM: 00 386 (0) 31 601 630).
Maps
Pomurje in Vzhodno Podravje 1:75.000, Geodetski zavod Slovenije, 2003.
Spodnje Podravje 1:50.000, izletniška karta, Geodetski inštitut Slovenije, 2007.
Posavsko hribovje – Boč – Bohor 1:50.000, Planinska zveza Slovenije, 2003.
Ljubljana in okolica 1:50.000, Planinska zveza Slovenije, 2003.
Dolenjska – Gorjanci, Kočevski Rog 1:50.000, Planinska zveza Slovenije, 1997.
Ljubljana – okolica 1:50.000, Geodetski zavod Slovenije, 1995.
Škofjeloško in Cerkljansko hribovje, Geodetski zavod Slovenije, 2002.
Julijske Alpe – vzhod 1:50.000, Planinska zveza Slovenije, 2008.
Julijske Alpe – zahod 1:50.000, Planinska zveza Slovenije, 2008.
Marking system
The E7 hiking trail in Slovenia is marked by a round marker with a yellow center and red border. The symbol used to mark footpaths is also a yellow arrow.
Crossing other E-paths
E7 crosses E6 in the west/middle of Slovenia in Mačkovec (Kraševec Milan, Selo 14, 1315 VELIKE LAŠČE,00386 ( 0) 41 467 472).
Accomodation
There are different types of accommodation available along the path: in mountain huts, tourist farms, hostels or bivouacs. In several places you can also pitch your tent or sleep in the barn by arrangement with the owners.
Food
Bring food for a day, as there are shops, inns and farms along the way where you can buy food or you can eat in mountain huts and inns.
Travel
Trains cover most of the country potniski.sz.si/ , as do busses ap-ljubljana.si/ . (Railway stations: Verd, Krško, Hodoš, …)
geopedia.si/GeopediaWidget.html?widgetId=czehgysi9bf66ig6508e06b25597013sbhq6312411n530g993czehgysi9bf66ig6508e06b25597013sbhq6312411n530g993#T2408_x496128_y105928_s9_b4
Gear
Suitable and comfortable footwear, shoes with good ankle support and a profiled, stiff sole, you should have warm spare clothes in your backpack – anorak, cap, gloves, long-sleeved T-shirt – which will be useful in case of a sudden change in the weather. Also do not forget first aid, a headlamp, matches and a candle, an astronaut foil that helps to store a lot of body heat, a mobile phone with a full battery, sunscreen and sunglasses. Do not forget the water bottle. Along the hiking trail you can get fresh drinking water from springs and wells.
Links
For additional questions along the trail, you can contact the coordinators of the European hiking trails: eupoti.com/_private/clani_keups_koordinatorji_26_4_20.pdf
References
---