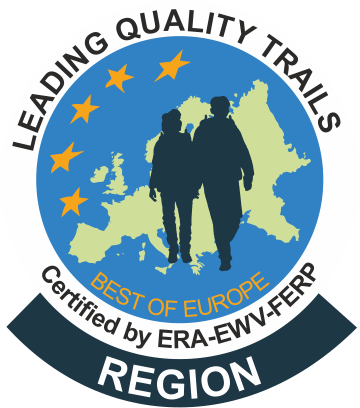 Leading Quality Trails – Best of Europe REGION – abbreviated Leading Quality Region – guarantees a perfect hiking experience. Whether it's a day trip with friends or family, a complete hiking vacation without changing accommodation, or a multi-day tour with a lot of luggage. The quality criteria of Leading Quality Regions meet the highest standards in terms of trails, hosts, service and tourist information. Anyone who has ever been to a quality region will consider the Leading Quality Region certification a "must" when choosing a region for vacation.
The certification for hiking regions is based on the wishes and needs of hikers. With a transparent set of criteria an objective evaluation of a regions offerings is possible. Five categories define the various aspects of an attractive hiking region. These are: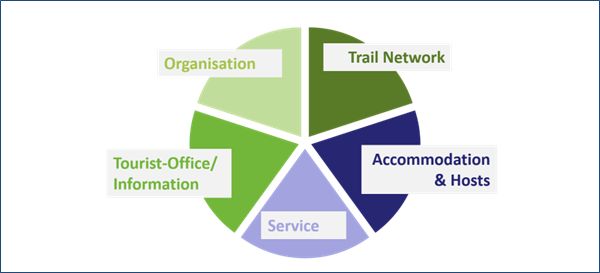 By examining the quality criteria behind them, each region can analyse its potential and expand its quality across the board. Training courses ensure that the necessary knowledge arrives on site and triggers important innovations there. This process requires the cooperation of different actors and strengthens sustainable regional development. For the hiking guest an offer optimally co-ordinated with its needs, which he recognizes with the help of the 'Leading Quality Trails – Best of Europe REGION' certificate.
A certified 'Leading Quality Trails – Best of Europe REGION' is a region which
is committed to hiking in its hiking trail infrastructure, accommodation and service,
offers at least five days of varied hiking vacations,
is perceived by guests as a self-contained region and promotes itself as such,
ensures a sustainable maintenance of the hiking tourism offer,
cooperates in a structured way with all partners in the hiking sector (large protected areas, hiking clubs, tourism managers, nature conservation, etc.),
acts as an organizational unit,
gains support for the topic of hiking among its population.
Benefits
How to get certified
An interested region (tourism association, large protected area, hiking association, etc.) contacts the European Ramblers Association (ERA) in order to initiate the quality process.
The ERA commissions Deutscher Wanderverband Service (DWS) to offer a four-day information and training module in the region, in which all local stakeholders in hiking tourism (hiking associations, hiking clubs, nature parks, tourism, forestry, etc.) are informed and trained about the requirements for a quality region. The fee for the four-day information and training module is € 4000 plus VAT and travel expenses.
The trained persons collect the data necessary (inventory analysis) for the quality assessment and prepare a preliminary initial evaluation for the region (strength/weakness analysis). From this information, it is possible to deduce where there is a need for improvement in the various hiking segments, whether in the trail infrastructure, the service quality, in the consultation in the tourism offices, with the hosts or in the organization in general.
If a region meets the requirements of a quality region, an application can be submitted to the ERA for the award of the predicate. With the application, the recorded inventory data (as taught in the training) is submitted.
The data collected in the region will be checked, independently evaluated and analysed by DWS. Qualified employees of DWS take random samples in the region.
After a positive audit, the region is awarded the certificate 'Leading Quality Trails – Best of Europe REGION' for a period of three years. At the end of this period, the quality must be tested again on the basis of random samples. The quality mark can be used in print media and on the Internet to promote the region
Prices
The costs for the certification procedure depend on the size of the region concerned:
e.g. up to 200 sqkm = inspection 2900 € + final certification 1200 €
e.g. up to 400 sqkm = inspection 4000 € + final certification 1200 €
e.g. up to 700 sqkm = inspection 5600 € + final certification 1200 €
e.g. up to 1.200 sqkm = inspection 7200 € + final certification 1200 €
Prices do not include VAT and travel expenses
Criteria
---
---
---