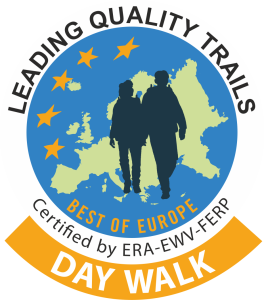 This page is about the program of the Leading Quality Trails – Best of Europe, Day Walk.
The Leading Quality Trails – Best of Europe, Day Walk is a brand that signifies the highest quality of trails across Europe. It represents a selection of short trails that offer exceptional experiences and meet stringent quality standards. These trails are considered the "Best of Europe" in terms of their scenic beauty, cultural significance, and overall trail experience.
The "LQT-BE, Day Walk" brand serves as a mark of distinction, allowing walkers to easily identify and choose trails that guarantee a top-quality experience. Trails awarded this prestigious designation have undergone a rigorous evaluation process and have been deemed to meet specific criteria for excellence.
The brand's purpose is to provide walkers with confidence and assurance that they are embarking on a trail that offers outstanding scenery, cultural attractions, and overall enjoyment. Whether it's exploring natural wonders, historic landmarks, or stunning landscapes, walkers can trust that trails carrying the "LQT-BE, Day Walk" brand will deliver an exceptional journey.
By promoting and recognizing the Best of Europe trails, the "LQT-BE, Day Walk" brand contributes to the development and sustainability of walking tourism in Europe, showcasing the continent's most remarkable outdoor destinations and encouraging visitors to appreciate and preserve these unique environments.
---
Benefits
There are a lot of benefits getting certified as a LQT-BE, Day Walk, find them here:
---
How to get certified as LQT-BE, Day Walk
You may find at this page, how the procedures are:
---
Prices
The prices of the courses and certifications are presented here:
---
Criteria
Find the criteria for the LQT-BE, Day Walk here:
---
Download a one-page paper:
---
Opening webinar
Documents and links from the opening webinar on 7th of June 2023 about Day Walk are here:
ERA presentation – introduction, general information, practical examples, benefits, prices, contacts
Guttland.Trails – presentation of a pilot project in Luxembourg
---
News
Read the latest news about LQT-BE, Day Walk:
Newsletter
Stay in the loop! Sign up for our newsletter to receive trail updates, exclusive offers, and expert insights from the Leading Quality Day Walk network. Join our community of trail managers today
Subscribe to our Newsletter about LQT-BE, Day Walk:
---
The LQT-BE, Day Walk system is part of the "Leading Quality Trails – Best of Europe" system. Read more here:
---