Leading Quality Trails – Best of Europe, Day Walk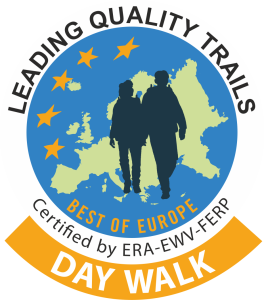 The Leading Quality Trails – Best of Europe, Day Walk will be presented at this webinar.
Want to showcase your trail as one of Europe's best? Find out how the Leading Quality Trails certification can make it happen. Sign up for our webinar on 7th June!
The ERA Day Walk Expert Group will present the criteria of the different Day Walk themes. Furthermore it will be explained, how to get certified as a Day Walk and how much it will cost to get certified.
After the webinar trail managers will have the knowledge on how to get certified.
Webinar Details:
Platform: Zoom Language: English
Registration for the webinar is open now, and spaces are limited. To secure your spot, please complete the registration form. Once registered, you will receive a confirmation email with further details and instructions on how to join the webinar.
During the webinar, our expert panel will guide you through the following key topics:
1. Introduction to Leading Quality Trails – Best of Europe, Day Walk: Learn about the prestigious Leading Quality Trails brand and its significance as a mark of distinction for top-quality trails across Europe. Understand how it can elevate the profile of your trail and attract more walkers.
2. Exploring the Quality Day Walk System: Discover the innovative Quality Day Walk system, designed to showcase exceptional landscapes and offer unforgettable experiences to walkers. Find out how the system emphasizes natural and cultural attractions while avoiding intensely transformed environments.
3. Certification Process: Gain insights into the rigorous certification process that ensures the quality and integrity of Leading Quality Trails Day Walk. Understand the evaluation criteria, assessment procedures, and the significance of meeting the certification standards.
4. Benefits for Trail Managers: Uncover the numerous benefits of having your trail certified as a Leading Quality Trail. From increased visibility and recognition to economic impacts and collaboration opportunities, we will delve into the advantages that await you.
5. Pricing and Packages: Get an overview of the pricing structure and available packages for obtaining the Leading Quality Trails Day Walk certification. Learn how the investment can bring long-term rewards and contribute to the sustainable development of your trail.
We encourage you to actively participate in the webinar by asking questions and engaging with our panelists, who are seasoned experts in trail management and sustainable tourism.
.