LEADING QUALITY TRAIL BEST OF EUROPE AWARD 2022
Sophie Chipon, 2nd vice-president of the European Ramblers Association, awarded the European certificate Leading Quality Trails – Best of Europe (LQT-BE) for the National Trail Park Hoge Kempen in Limburg, Flemish Belgium, on Thursday, December 8, 2022.
In the presence of Mrs. Zuhal Demir, Flemish Minister for Nature and Tourism, Johan Van Den Bosch, coordinator National Park Hoge Kempen and Ignace Schops, Director National Park Hoge Kempen, and the various mayors of the towns in the area, Sophie Chipon, on behalf of ERA-EWV-FERP, was able to award the certificate.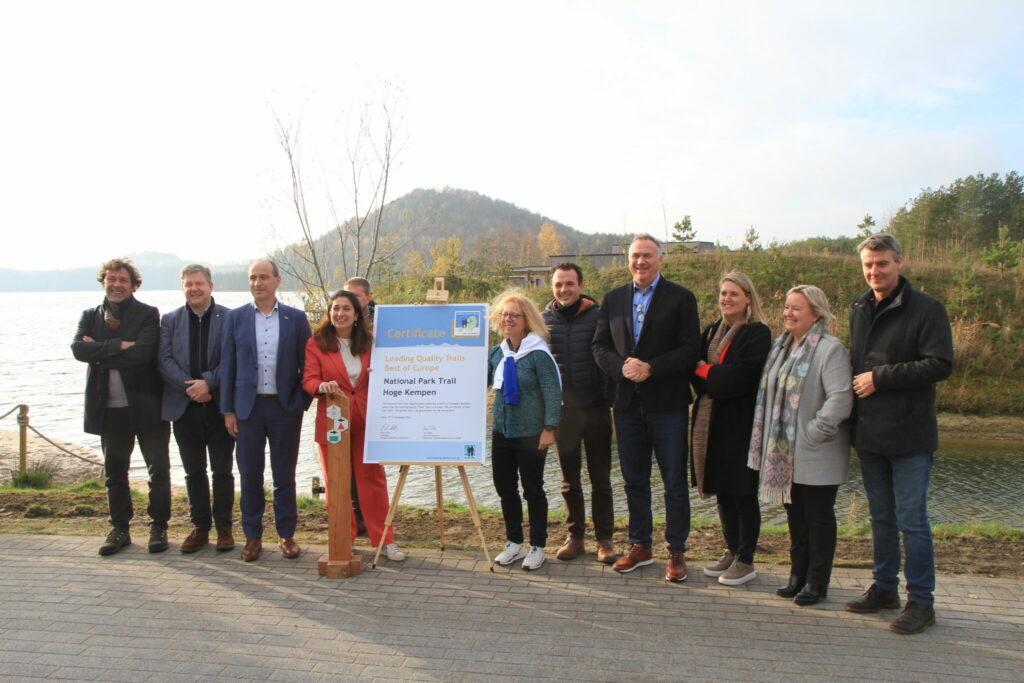 Congratulations to all the people and institutions that have worked to rehabilitate an industrial site that ceased its activity almost 30 years ago. Nature has now regained its rights and the LQT-BE label guarantees all users access to a preserved natural and cultural heritage. A good example to follow!
---
There are currently 22 LQT-BEs in ten European countries (6 in Germany, 4 in Greece, 3 in Luxembourg, 3 in Denmark, 2 in Portugal, 1 in Sweden, 1 in Austria, 1 in the Czech Republic, 1 in France and 1 in Switzerland). This adventure started in 2012 and today we celebrate the 10th anniversary of the LQT-BE with this 23rd LQT-BE awarded to the National Park Trail Hoge Kempen, the 1st in Belgium.