2022 – The year of the E1
A lecturer from the University of Music in Detmold composed an elaborate hymn for the initiative. The year for the start of the initiative could hardly be more appropriate: Not only will the E1, the first of the twelve E-paths, turn 50 in 2022, the Maastricht Treaties (on which the current version of the EU is based) was also celebrating their 30th birthday -year anniversary. The European idea is the indisputable core of the "12 Ways – 1 Europe" initiative. We hike through Europe's enchanting regions, meet interesting people and discover the most exciting myths and stories in the heart of Europe on foot.
This year marked the beginning of the first of the European long-distance hiking trails E1, which leads over 8,000 km from the icy North Cape to the fire in Sicily at the foot of Mount Etna and on to the south-eastern tip of Sicily. It not only connects people in northern and southern Europe, but also impressively demonstrates how rich in contrast and colorful Europe is.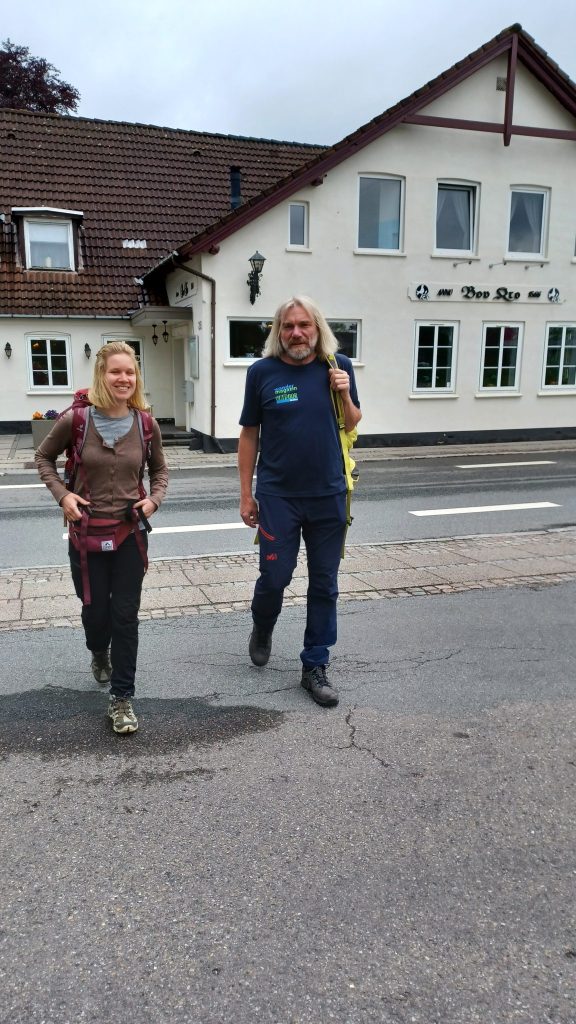 From Denmark, a team of hikers set off on a foot journey from the Baltic Sea to Lake Constance in four time segments, 78 daily stages and 1,900 km. Also present were Thorsten Hoyer (extreme hiker and editor-in-chief of the hiking magazine), Manuel Andrack (hiking pope, author and former sidekick of the Harald Schmidt show), Michael Sänger (publisher of the hiking magazine), Daniela Trauthwein (hiking blogger), Svenja Walter (editor of the hiking magazine) and Jarle Sänger (freelance author and project manager of the initiative). They all documented the great hike on social media on a daily basis, accompanied from Wandermagazin and Weitwanderportal with exciting background stories and reports. Exciting legends and thrilling stories awaited hikers to the left and right of the E1. For example, the story of the Pied Piper from Hamelin or that of the vanquisher of the Roman Varus legions in the Teutoburg Forest.
First section: 05/24/2022 to 06/11/2022 // Padborg (DK) to Hamburg-Altona
Second section: July 4, 2022 to July 23, 2022 // Hamburg-Altona to Adorf (Diemelsee)
Third section: 08/22/2022 to 09/11/2022 // Adorf (Diemelsee) to Heidelberg
Fourth section: October 2, 2022 to October 20, 2022 // Heidelberg to Kreuzlingen (CH)
Big opening ceremony and outlook The start of "12 Ways – 1 Europe" was celebrated on May 21st and 22nd
At the foot of the Hermannsdenkmal in the magnificent Palaisgarten, well-known figures such as Joey Kelly , Sasha , but also personalities from politics, such as Professor Andreas Pinkwart , were together and celebrated the launch of the initiative and the E1